― DeadlyMatter is a story driven open world action-adventure game in development. Step into the role of Alex and prevent mass production of antimatter by the Illuminati. Explore exciting locations like the Crimea & Sinai and unveil the conspiracy to decimate the human population.
Seek the truth, expose the dark side & sabotage your destruction!
W
ho would thought that a social media campaign before the start of a crowdfunding campaign is a complete project on it's own? As we manage to spit out our
brand new trailer
on YouTube (and a little
gameplay trailer
as a short version) was I confident we can easily get exposure on YouTube and have a 10k views to start with. We had the 22k views on our old trailer from 2015 still in our head; probably mostly the result of the
Steam Greenlight page
showing the embedded video. Steam Greenlight was still a popular place to visit for gamers in 2015 but the immense junk (poor quality products) that has been dumped into our market kept a lot gamers away. The Indie Game Apocalypse (#indieapocalypse #indiecalypse) is a fact and the game engines with a "make my game button" pop up like mushrooms in a damp low poly birch forest. With so many AAA games being released on the market that show so much quality and lots of content, does seem the market seems the market for the #indiedev much more challenging than a year ago.
The
Indiegogo campaign
will be launched on Friday June the 10th
(#Bilderberg meeting going on, New World Order #NWO and other #conspiracy thoughts that match the theme of this #indiegame)
so the last few weeks were completely devoted to social media marketing. With more then 16 different channels/platforms to communicate with our future players and potential backers, a time zone that much different then the America's and Europe, must I admit this is a pretty time & energy consuming task. My advice to all developers with future releases; don't wait with this until the crowdfunding campaign or release, but work on this every single day from the birth of your project until all the fans of your game have left.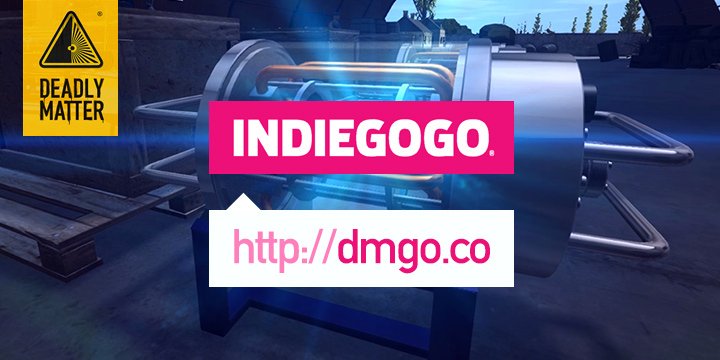 Currently the amount of contacts is growing and it's becoming visible that the energy & time put in, does pay off. Especially
twitter
(however blocked in here in China) is contributing very well, but even
Instagram
does create an unexpectedly amount of leads and conversions.
If you like to back your fellow T3D dev, start by liking and perhaps adding a comment on one of our trailers and hopefully to see you next weekend getting one of those perks from our indiegogo page. I'll be extremely busy with the whole campaign, probably leaving no time for blog updates here, subscribe here if you want to be kept updated:
http://dmgo.co
or via our website:
http://deadlymatter.com
Cheers, Nils
Full trailer
―
Don't forget to subscribe & like!